In light of the current pandemic, Enterprise for Youth has started virtual internships. This has led to a multitude of new opportunities for youth like myself, one of which was a book club. The purpose of this activity was to learn leadership skills through studying the experiences and thoughts of different accomplished people, ranging from Malcolm X to Sonia Sotomayor. Interns were divided into groups based on who they were interested in and spent time reading autobiographies by the corresponding people. Afterward, there was a group conversation, where we discussed the themes of the book, their leadership, and our takeaways, among other things.
One of the books I read was "Born a Crime" by Trevor Noah. The extent of my knowledge on the man before participating in this book club was as follows: he is a comedian famous for hosting The Daily Show and his occasional witty jabs at American politics that go viral on Youtube. Discovering his book, "Born a Crime", through Enterprise for Youth, and learning about his history was like having a blindfold I didn't know was there, removed. Trevor's humorous retelling was hilarious, but also served to contrast with the darker themes of racism and abuse. In a single chapter, I was sent from laughing uncontrollably to crying from the endless injustice of the world.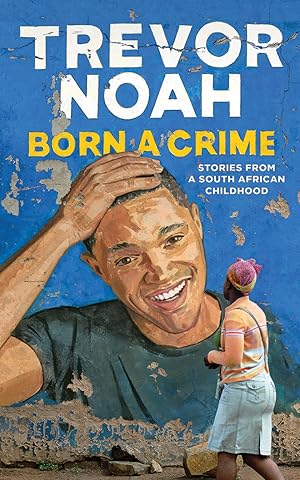 While reading, I had many moments where I wondered, "Why have I never learned about this?" or "Why was this never taught in school?". It was shocking for me to realize how little talk there was on issues like apartheid or racism in general. As I learned from the book, apartheid lead to about 3.5 million people being displaced and forced under racial segregation, among countless other things, for nearly fifty years. All of this occurred less than thirty years ago. It is concerning that I knew so little about such a large scale oppression before reading this book. It is crucial that atrocities such as apartheid are discussed so that we can one, not repeat history and two, learn and change. Progression cannot be made without first exchanging ideas and discussing the past, which is why I am grateful to Enterprise for giving me and my peers this opportunity to have a conversation about what we learned and our current thoughts.
Having an open and free-flowing conversation allowed me to share my own perspective as well as see from others. We discussed the many pervasive themes, such as family, religion, identity, and racism. One of the most memorable parts of Trevor's story is his "Tom and Jerry" relationship with his mother, with Trevor as the mischievous Jerry and his mother the relentless Tom. Like most people, Trevor's sense of self was shaped by his environment and family. His identity as a mixed-raced boy played an immense role in his childhood since his existence in itself was a crime under the Immorality Act. One such story was how his mother had to hire another woman to act like his mother and she had to pretend to be their maid, just so they could go out in public. Another major influence was the absence of men in his family, which led to Trevor looking up to the many strong women in his life. Consequently, it is where his independence and leadership skills are taken from.
Hearing everyone else's thoughts on the book was enlightening as well as reassuring. Connections I did not think to make were brought up, for example how the many different churches Trevor attended helped him become more adaptable and able to connect with various groups of people. It was also encouraging to hear that many people agreed with me on the importance of the issues "Born a Crime" sheds light on. If we continue to educate ourselves and share ideas like we did, I know eventually we can bring about change for the better.
After taking part in the book club, I have a profound respect for everything Trevor endured and the path that he carved out for himself in spite of everything. "Born a Crime" captured the personality and essence of Trevor perfectly. I swear I could hear his voice through the jokes on the page; it felt like Trevor was reading the book to me. I loved hearing things from his perspective and seeing how he developed his own leadership skills. It was awe-inspiring to see how Trevor found a way to use his talent of entertaining people to help educate and spread awareness of the racial injustice that it is still prevalent now. This book club gave me the chance I never had to learn about apartheid and its lasting effects, as well as engage in discourse with others on it. There is no one solution or a quick way to fix the many deep-rooted problems in our society, but the first step will be acknowledging that there is a problem. Educating ourselves and discussing with others, like in this book club, will be the key to making a difference in the future.
By Kali Lew, Enterprise for Youth intern
July 29, 2020